AUTHOR: The Dental CFO
September 09, 2022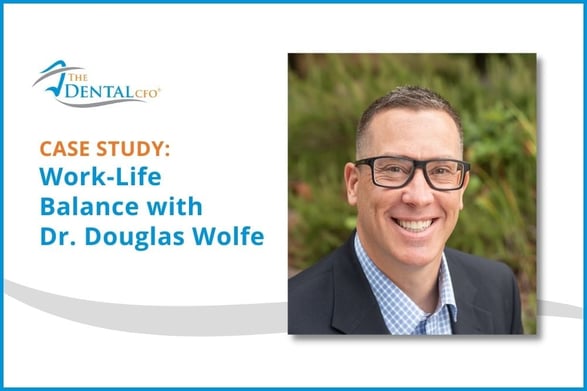 Before opening his own practice, Dr. Wolfe worked as a dentist for several years in different offices. As the years went on, he realized he wanted to open a practice of his own. Being propelled by this goal, he purchased a plot of land and built his practice from the ground up. In 2011, he opened the doors to New Town Dentistry.
During his time working at other practices, Dr. Wolfe made observations and gained insight that gave him the upper hand when opening New Town Dentistry. However, he knew his expertise was in the dental industry, not managing a business. From the very beginning, Dr. Wolfe wanted a group of professionals to handle the financial, administrative, and tax management of the practice. So, when he opened the doors to New Town Dentistry, Dr. Wolfe decided to partner with The Dental CFO for peace of mind and to ensure the long-term success and growth of his dental practice.
"At the end of the day, I'm a dentist – not a professional financial manager. The more time I spend away from the dental chair, the more money the practice loses." – Douglas Wolfe, DDS
A Q&A with Dr. Wolfe
Discovering The Problem
Q: Were you hesitant before signing the contract with The Dental CFO?
A: I knew from the very beginning I wanted help managing the finances that go along with opening a dental practice. I'm a busy man; I have a wife and four children at home, so I don't have much extra time to spare. When I'm at home, I spend time with my family. I don't spend that time worrying about the nitty gritty financial details of my dental practice. I wasn't hesitant to sign the contract with The Dental CFO because I trusted their expertise would benefit my new endeavor of owning a dental practice.
Q: Why did you choose to partner with The Dental CFO?
A: After doing research on a few different companies that offer financial management services, I decided to partner with The Dental CFO because of their highly personalized services. When selecting a company to partner with, it was very important to me that I wouldn't have to chase down team members to get an answer to a question or concern. I decided it was best for me to focus on dentistry and hire a group of trained professionals to handle the practice's finances. I am thankful for that decision every day. The Dental CFO's team is easily reachable with a quick phone call or text, and they are very responsive to my questions.
Q: Can you tell us about a specific problem The Dental CFO has helped you with?
A: While The Dental CFO may be experts at financial management and dental practice tax preparation, they also have a wealth of knowledge in other arenas like HR and legal. Five years into my practice, employee issues began to negatively impact culture, morale, and productivity. Employees were fighting with each other, one left angrily, and the whole office was getting messy.
The Dental CFO stepped right in to provide me with clarity and guidance to best deal with the situation. Not only did they bring a swift resolution to the problem, but they helped me add new hiring protocols to ensure I was hiring the most appropriate candidates for my practice. For example, The Dental CFO helped us set up simple background checks and personality profiles, not only for new employees but for the whole team to make sure we were functioning as a cohesive group. The Dental CFO made this stressful situation much more manageable and offered a quick solution that would help us avoid another problem like this in the future.
A Profitable Solution
Q: Partnering with a financial management group comes at a cost. Have you seen a return on your investment?
A: Absolutely. The Dental CFO's fee is well worth it, and I have seen a significant return on my investment year over year. Partnering with The Dental CFO comes at a cost, just like expensive dental technology. But at the end of the day, both are necessary investments if you seek to continually increase your revenue and grow your practice. Partnering with The Dental CFO saves me time, makes me more efficient, and gives me more time with my patients, all of which drive increased revenue to the practice. Having a team that takes care of all my tax planning and financial management is well worth the cost. My practice would not have been as profitable if I hadn't partnered with The Dental CFO. ​
Q: What is the biggest value The Dental CFO provides?
A: The biggest value The Dental CFO provides is their team approach to everything they do. No matter what we're dealing with, they always come together and help us create a plan of action for the practice. The Dental CFO isn't just an accounting and financial management company. They help me with so many other aspects of owning a business, like dental tax preparation, tax filing, and even setting specific goals. For example, we recently had a meeting with their team to discuss my vision of the practice over the next 20 years. This was a valuable opportunity to assess my goals and determine how we are going to achieve them within a certain timeframe.
The Dental CFO's cohesive team of experts gives me peace of mind because I know they have the best interest of my practice in mind. I don't have to worry about the financial management of the practice because their team is on top of it. Their support has enabled my practice to grow steadily since 2011, and I couldn't imagine doing business without them.
Q: What services stand out to you that The Dental CFO provides?
A: The Dental CFO's consistent quarterly reporting is very valuable to me. They are always on top of quarterly tax payments and other regulatory measures dentists in private practice have to keep up with. The Dental CFO has been consistent for our entire 11-year business relationship. They have never let us down, and I trust their team fully with my dental practice's finances. Whether we're dealing with the state or the IRS, The Dental CFO makes sure all payments are accurate and on time. We've never been caught with a big tax bill because their projections are always spot on. I'm relieved to not have to worry about tax management because it would consume a large percentage of my time and take away from patient care.
"Working with The Dental CFO has transformed New Town Dentistry. I fully trust their expertise and guidance, and I can't imagine where my practice would be without this partnership."
– Douglas Wolfe, DDS
A Lasting Impact
Q: How has your relationship with The Dental CFO grown over the years?
A: My relationship with The Dental CFO has blossomed over the years. We don't have your typical business relationship; rather, we have a dynamic business relationship built on mutual trust and support. Their team of experts has provided us with assistance in many areas, including dental practice tax management, HR, financial optimizations, and even adding a 401k program for our employees to participate in. Our relationship with The Dental CFO is truly invaluable.
Q: What have you learned from working with The Dental CFO?
A: I have gained a tremendous amount of knowledge since partnering with The Dental CFO. I've learned more about accounting than I originally anticipated. I meet The Dental CFO every quarter to do a large review of all the practice's financials. Those reviews are very beneficial because I get the opportunity to set new goals, assess where the practice is at with current goals, and make sure we're on the same page.
At the end of the day, I chose dentistry, not accounting. But partnering with The Dental CFO has given me the confidence and knowledge to make informed decisions about my practice. The Dental CFO has taught me about metrics and how to allocate percentages for supplies and other office expenses. It's been extremely helpful to have the expertise from The Dental CFO regarding things like expenses, spending, and employee compensation. They also take into account fluctuations in the market, supply chain issues, and the unexpected, like COVID-19. With guidance from The Dental CFO, we've even been able to improve employee compensation.
Q: How has partnering with The Dental CFO improved your work-life balance?
A: Partnering with The Dental CFO has transformed my work-life balance. This partnership has given me more time and freedom by making the practice more efficient. Each year, they help me achieve our financial and production goals, and then they sit down with us to set new goals for the following year. Seeing that growth year over year has been tremendously motivational.
By being more efficient and optimizing our internal processes, we've been able to reach our goals quicker and with less stress. This has enabled us to move to a four-day work week, which has given me even more free time to spend with my family. This also gives us time to position the practice for future growth. Having the time set aside to brainstorm new ways to grow the practice has been invaluable.
"Partnering with The Dental CFO has made the financial management of my dental practice easy and stress-free. With their expertise and support, I'm able to spend my time out of the office where it matters most: with my family." – Douglas Wolfe, DDS
What does the future hold?
The Dental CFO has supported Dr. Wolfe for the past 11 years, and we will continue to do so as his practice matures.
The experts at The Dental CFO are here for your practice, wherever your journey may lead you.
Interested in taking your dental practice to the next level? Contact the experts at The Dental CFO today for a free consultation to see how we can solve your challenges and help you achieve your goals!