AUTHOR: The Dental CFO
September 06, 2023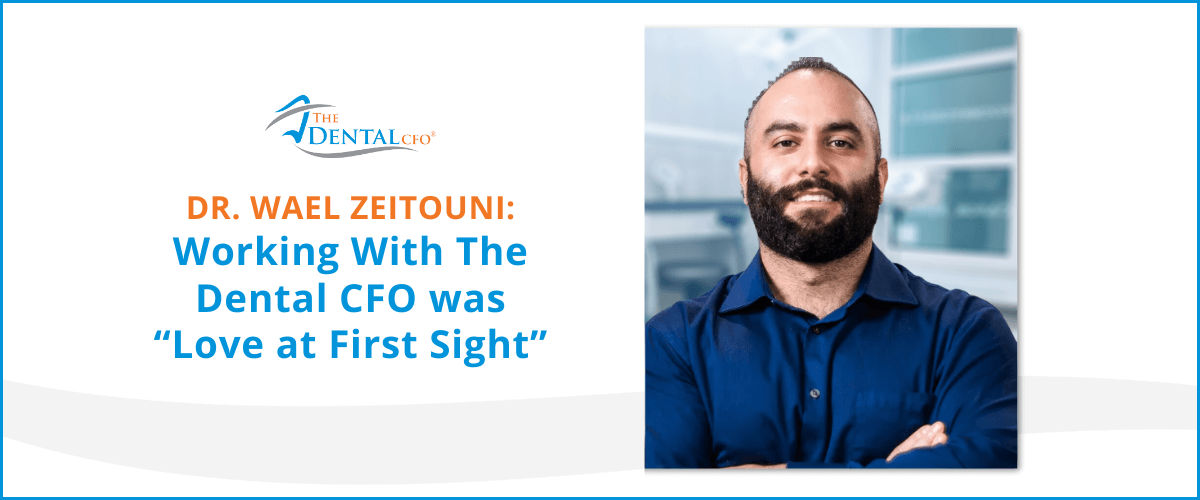 Dr. Wael Zeitouni on How The Dental CFO Helped His Practice Grow — Fast!
Tucked in a lovely rural community called Locust, North Carolina — 30 minutes outside of Charlotte, but worlds away from the big-city mindset — is a dental office run by Dr. Wael Zeitouni.
Dr. Zeitouni spent a couple of years as an associate at another practice before starting Locust Family Dentistry in 2017. His flagship team included two associates, one hygienist, and two office professionals.
Until then, Dr. Zeitouni had been laser-focused on his clinical skills, making sure he was at the top of his game as a practitioner. But he knew that being an amazing dentist wasn't enough to ensure his practice would be successful.
He understood how important it was to partner with someone who had deep industry expertise, someone who could offer financial and HR support to help his practice succeed and grow. That's where The Dental CFO came in…
Getting the Foundation Right
His experience as an associate had given Dr. Zeitouni an invaluable look into the inner workings of a dental practice.
"I had studied a lot," he says, "of what to do and what not to do before acquiring our practice. I knew that I needed somebody like The Dental CFO to help me."
Practice owners have to "wear a lot of hats," Dr. Zeitouni points out. And the more you can delegate, the better, "especially to a team that really knows what they're doing."
Dr. Zeitouni knew he would need the right people to help with bookkeeping, taxes, financial planning, growth strategizing, and more. And he knew that starting the practice with the right team could mean the difference between success and failure.
Then, someone he trusted introduced him to The Dental CFO. "At that stage," he says, "I was starting my journey, and they helped me a lot through that process of the acquisition and the practice itself. I've been working with them since then."
His two criteria in looking for a team to help manage the business side of his practice? A team who knew exactly what they were doing — and people with unimpeachable integrity. "The Dental CFO embodied that," he says. "It was love at first sight."
Experts, Always by Your Side
Dr. Zeitouni says partnering with The Dental CFO "was probably one of the best moves" he made as he began his practice. "Having them in the background and having them as my advisors definitely was a big play to help me catapult myself into success."
There's a lot to learn about running a successful practice. "There's a wealth of knowledge," Dr. Zeitouni says, "whether it be from financials to HR to helping with bookkeeping or regarding your taxes and tax strategies and financial planning." Partnering with The Dental CFO "was a very integral part for me to help me grow and grow as fast as I did."
The Dental CFO was there to help Dr. Zeitouni feel confident in the decisions he had to make for his new practice. "In the beginning, there's just too many moving parts," he remembers.
The Dental CFO is more than just a CPA or a firm to help file taxes. Our team partners with dentists to help maximize the potential of their practices — helping with everything from financial management to navigating difficult personnel situations to strategic growth planning, purchasing the right technology, and just about everything in between.
Dr. Zeitouni gets monthly financial reports and meets with his team quarterly for financial planning. Of course there's tax planning and filing. But there's also bookkeeping, help with HR, payroll support, and more.
Dr. Zeitouni loves the way he has a team of experts in his back pocket with The Dental CFO. He's always got someone to bounce ideas off of, to brainstorm and strategize with.
"Two heads are better than one," he says. "And if there's a whole team behind you, that's going to make things flow a lot better. You give the team a call and just bounce ideas off of the whole team to help you manage whatever situation best."
The Future Looks Bright…
Since 2017, the practice has seen rapid growth — they're now at three people up front, two hygienists, five or six assistants, plus Dr. Zeitouni and his associate.
With The Dental CFO at his side, Dr. Zeitouni sees a bright future for his practice. When talking about partnering with The Dental CFO, Dr. Zeitouni says, "It's a great relationship. I foresee success on all fronts."
Working with The Dental CFO has given Dr. Zeitouni peace of mind, knowing he has the support he needs to grow his business and focus on providing his patients with the top-notch care he's known for.
"At this point, you can handle a lot of things," he says, "but it's just knowing that people who are experts in the field are helping you handle whatever issues that arise… They're on your side. Peace of mind is really invaluable. You can't put a price on that for me."
His advice to dentists starting their own practice? "If you want to have peace of mind and minimize stress, have somebody on your side. When you run into things that you've never run into before and you need help — for me, it's a must."
Partnering with dentists like Dr. Zeitouni is why we do what we do. Seeing them succeed, running practices that are efficient and profitable, providing the best care possible to their patients, and loving their careers… we wouldn't want to be doing anything else on earth.
And the future? We agree with Dr. Zeitouni. It's looking awfully bright.