AUTHOR: The Dental CFO
November 21, 2022
Nelson Rockefeller once said, "The secret to success is to own nothing, but control everything." Obviously, Mr. Rockefeller had a "tongue in cheek" approach to handling personal risk. Some excellent advice can be extracted from what this legendary titan of industry had to say about protecting what you own and have worked so hard for.
What Is Asset Protection?
Not too many years ago, "asset protection" was a relatively new area that not many dental professionals spent much time thinking about. Now, the issue of asset protection is no longer new and has become one of the most important parts of financial and estate planning. This is particularly true for higher-than-normal-risk professionals like dentists. Not only do dentists have medical malpractice risk, but even more important is the risk they incur as business owners and employers. Incredibly, dentists have about three times (3X!) the risk of being sued by an employee as they do by a patient. Also, employee lawsuits do not have the same insurance coverage as malpractice claims do.
Today, it is well understood that asset protection means setting up specific legal tools and leveraging resources that will help protect your assets from a creditor while allowing you and your family to use and benefit from those assets as you wish.
As dental professionals earn increasing compensation as their patient base and practice grow, the risk exists in the following areas (note – this list is certainly not all-inclusive!):
Malpractice claims

Divorce

Practice partner disputes

Poor investments and business decisions whether related to the practice or not

Economic downturns which will inevitably happen

Accidents, injuries, illness (i.e. self, family, key team members, etc.)

Not having an LLC in place to own your practice facility and real estate
Risks associated with the above areas will invariably increase as a dental practice grows financially, the number of patients it serves grows, the number of employees it hires increases, and you hire additional provider associates.
What Can You Do To Protect Your Assets?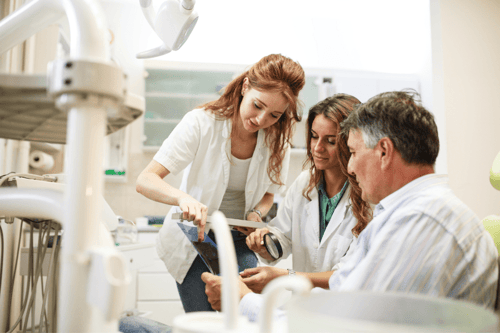 Let's take a look at just a few of the fundamental steps a practice owner should investigate and seek advice on in order to minimize risk. A disclaimer worthy of expressing is that the following recommendations are only the "tip of the iceberg" when it comes to taking strategic and proactive steps for asset protection.
The first step is to engage a reputable attorney who is well-experienced in estate planning to guide you through the maze of complexity that comes with minimizing risk.

In addition, you should plan to engage an accountant/healthcare consultant and financial planner who can work hand-in-hand to provide top-level advisory services along the way. Steps to minimize risk and protect your assets can be taken at any time during your career, but ideally should be done as soon as possible.

Be sure to have

employment agreements

in place for any associate dentists and all shareholder/partner dentists at your practice. Many times we speak with new dental clients who have no executed employment agreements in place for any providers at their practices. This is a major mistake and your healthcare consultant can advise you on this with the assistance of an attorney.

Additionally, always be able to find your practice entity's Corporate Bylaws or Operating Agreement. Invariably, you will need to put your hands on these documents during the course of practicing dentistry. These documents are usually needed at the time major financial transactions take place and when a new partner joins your practice.

When a

new partner

joins your practice, not only will an employment agreement for all partners be a good investment, but a Shareholders' or Members' Agreement is recommended to lay out the provisions of any future buy-ins and buy-outs that may occur in the future as your practice grows and owner dynamics change.

Your financial advisor should also provide guidance regarding the various types of

insurance

you need as a dental practice owner. This discussion goes well beyond having just the standard comprehensive medical insurance and life insurance coverage that everyone should have. An incredibly valuable type of coverage is disability insurance and Business Owner Protection (BOP) coverage. A reliable and well-informed financial advisor can provide direction on the type of coverage and the best level of coverage that you need. Statistics consistently show that an individual is more likely to become disabled sometime during the course of their career versus unexpectedly dying. A debilitating injury to a dentist's hands, or a serious illness that takes them out of the practice for a period of time, can have devastating financial consequences if preparations are not made ahead of time. With the advice and assistance of strategic advisors, a dental professional can confidently be prepared for the worst while always hoping for the best.

Your practice consultant can also advise you on when it is time to set up a Limited Liability Company (LLC) to own any real estate you may have. This includes property related to your practice facility and the land that the facility is located on. In order to minimize risks associated with individuals being in your practice facility or on your property (ex. your parking lot) and being injured due to "slip and fall" type accidents, it is advisable to have an LLC in place that can take the brunt of any liability that comes into play in a situation like this. A practice consultant and attorney should be consulted regarding this extremely important strategy to minimize personal risk.
Finally, if you as a practice owner are lacking in any of the areas mentioned in this blog, make it a priority to discuss this with your practice consultant or attorney. It is certainly not only in your best interest, but that of your family and your employees as well. It is never too late to protect the assets you, your family and your team depend on now and in the years ahead.